Auditions!
By A Bunch of Amateurs
Auditions
26 & 27 August 7pm
OSPA Theatre, Hall Road, Onewhero
Synopsis
Keen to boost his flagging career, fading Hollywood action hero Jefferson Steel arrives in England to play King Lear in Stratford – only to find that this is not the birthplace of the Bard, but a sleepy Suffolk village. And instead of Sir Kenneth Branagh ad Dame Judi Dench, the cast are a bunch of amateurs trying to save their theatre from developers. Jefferson's monstrous ego, vanity and insecurity are tested to the limit by the enthusiastic am-dram thespians. As acting worlds collide and Jefferson's career implodes, he discovers some truths about himself – along with his inner Lear!
Onewhero Society of Performing Arts (OSPA) are holding auditions from 7pm on Wednesday 26 and Thursday 27 August at the Theatre, 14 Hall Road, Onewhero. There are four female and three male roles, so if you fancy being part of this terrific comedy at the home of amateur dramatics in North Waikato, now's your chance.
You could try out for the role of super-egotist, Jefferson Steel, the fading Hollywood star or that of Dorothy Nettle, director of the Stratford Players and the moving force behind keeping the theatre alive. Or there's Steel's long-neglected teenage daughter, Jessica, who wants to make him pay for it. Then there's pompous, stuck-up Nigel Dewbury, who believes he should play all the leading roles; star-struck Denis Dobbins, handyman and village Mr Fixit, who fancies heading up Steel's entourage of one; jolly, generous Mary Plunkett, who's an unashamedly adoring Jefferson Steel fan; and thirty-something marketing executive and the sponsor's wife, Lauren Bell. Smarter than her husband allows her to be, she's treated as a bimbo because of her looks.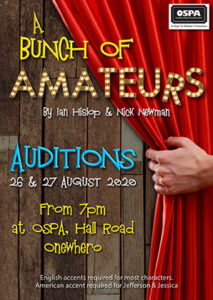 Cast
Cast includes:
3 male roles all 40-60-ish
4 female roles
1 x teen role, the rest between 30 – 60
Journalists – cameo or offstage, can be either sex, any age
Rehearsals
Rehearsal days will be organised once the show has been cast.
Show Dates
A Bunch of Amateurs will be on-stage at the OSPA Theatre 4, 5, 6, 11, 12 December.
OSPA Contact
Please contact Ellise 0274 339743 or elliseconnelly@gmail.com to confirm your intention to audition, request an audition pack and confirm preferred audition date.