Welcome to OSPA!
Onewhero Society of Performing Arts, otherwise known as OSPA, is a performing arts group located in Onewhero in the North Waikato, a mere twenty minute drive from Pukekohe. We encourage and facilitate community involvement in a variety of performances by managing our own productions and regularly hosting outside performers. With over 60 years of productions and hosting talented entertainers, we're proud to be your ticket to local entertainment. Learn more about OSPA…
AUDITION NOTICE
The Complete Works of William Shakespeare [Abridged]
Shakespeare may be turning in his grave, but the show that's become a cult classic contains all 37 plays (plus sonnets) in just 97 minutes. As the comedies aren't anywhere near as funny as the tragedies, all sixteen have been condensed into Four Weddings and a Transvestite, the history plays are transformed into a game of American football, Othello is performed in rap and Titus Androncius becomes a TV cookery programme. For the finale, Hamlet is staged first as a psychological exploration of Hamlet's Ego and Ophelia's Id, then performed in a matter of minutes and, for the finale, performed backwards. For lovers of Shakespeare everywhere. What cheek! What nerve! What sheer, heavenly, unadulterated fun! Sunday Express.
AUDITIONS ARE ON SUNDAY 26 MARCH AT OSPA, 14 HALL ROAD, ONEWHERO
3 cast required, 2 male and 1 female
Email us at completeworksospa@gmail.com for more information or to book an audition!
The season will run from 21 to 29 July 2023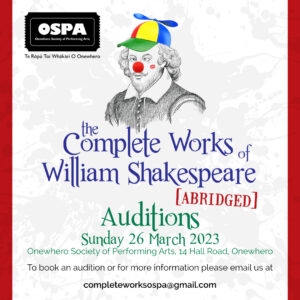 There are no performances being hosted by OSPA at the moment. Please check back soon.
Our Sponsors
OSPA is very grateful to the sponsors of our community theatre! Please acknowledge our sponsors' generosity and support their businesses where you can. If you're a local business and would like to support OSPA, please email info@ospa.org.nz. We would love to hear from you!